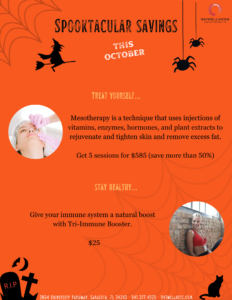 Injecting toxins can be scary! Choose Mesotherapy for your complexion instead.
This technique uses injections of vitamins, enzymes, hormones, and plant extracts to rejuvenate and tighten skin and remove excess fat.
During October, you can get 5 sessions for just $585. At that price, you save more than 50%.
To learn more about Mesotherapy, click here.
For those looking for a more natural way to stay healthy this cold and flu season, we're offering $25 Tri-immune boosters during the month of October only.
For specific product information on our Tri-Immune Boost Injections, click here.
Or, click the button below to book your appointment today!